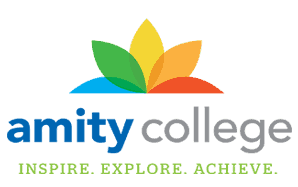 Amity College is an independent, non-denominational, multi campus, school operating in NSW since 1996. It has been serving the community for 20 years and has grown beyond expectations to meet the increasing demand of Australia's multicultural community.
Today, Amity College offers a dynamic, engaging and comprehensive curriculum, Kindergarten to Year 12, for over 1800 students from 46 different nationalities.
Amity College's appeal rests in the school's strong sense of community, the values we celebrate, and providing a balanced education that addresses the academic, social and emotional wellbeing of all our students.
Amity College plays a leading role in educating young generations with its continuous quest in achieving academic and creative excellence and preparing students to participate in Australian society as informed, active, caring and contributing citizens.
Amity College aims to develop a more well rounded person by having students exercise their social responsibility through engagement in community work and intercultural activities. Our school organises a multitude of student-oriented workshops and excursions that provide ample opportunities to meet other students of different cultures and faiths. These experiences provide invaluable social contexts for students to focus on our commonalities rather than differences.
Amity College has celebrated 20 years of its establishment in 2016.
Amity College is proud to host the International Festival of Language and Culture's ("IFLC") Australia franchise in Sydney since 2016.  The school regards the IFLC as a tribute to the multicultural and cosmopolitan city of Sydney and the school's community, which is a kaleidoscope of cultures and languages.